Now that you had time to perfect your label design skills since our last tutorial on making neat, professional-looking labels, it's time to present to you some excellent custom label printing opportunities that you have with Labeley.
After you've designed a unique beer label for your homebrewed beverage, a fun kids label for a line of children's products you are planning to sell, or any other type of personalized stickers for your brand, the next step is to print them out and finalize your product. Here's how to go about ordering printed labels from us:
First click on the Customize option that you'll see in the lower right-hand side of the screen.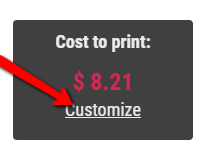 The following customization options will appear:

Here you can choose the type of material you want your label to be printed on, quantity of labels you need, the size of your label in inches, and where you want your label order to be shipped. We tried to make the material types as transparent as possible with easy-to-understand label stock names, so people who don't have any experience with label stock would know what's appropriate for their product. If there are still some uncertainties (such as whether to use paper or vinyl for products that will be stored in the freezer, or similar) you can always get in touch with our super friendly support team to clarify all dilemmas.
When all the fields are filled out correctly, click on the Add to cart button. You will be directed to the View cart page: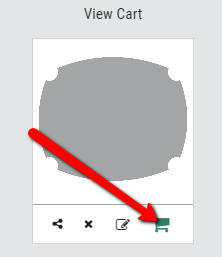 Here you can share the label on social media, delete or edit it if you're not happy with how it turned out, or you can click on the last icon (shopping cart) and proceed to checkout.
Please check your label order specifications on the checkout page before you make the payment. Our printing specialists will only print the final version of your label, so make sure all the graphic elements are saved and your printing options are chosen accurately.
Upload Any Design From Your Computer and We'll Print It Professionally
The thing to love about printing labels with Labeley is that our printing experts offer a lot of flexibility to entrepreneurs and small business owners. If for some unlikely reason you don't manage to create just what you need with the Labeley app, you have a very simple option to upload any other label design from your computer. Just click on the Print Your Design option on the homepage or go to this page.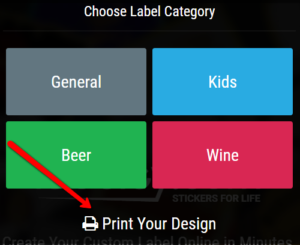 You'll be redirected to a form where you can even write a note to our designer to make some small edits to your label, if you want. Just make sure that the attached design is in a vector format.
Now that you know where to get free label design and professional printing at low printing costs, it's time to start branding your product!