Every year in October we can rely on having crazy fun dressing up in scary costumes and spooking our friends properly. It's that time of the year again and though Halloween is not until the end of the month, preparations are well under way. It's not like you can get ready for Halloween in a day, or even a week. And while you're thinking about how to dress up this time and be super original, there's something you can do right away: create fun Halloween labels and apply them to stuff in your office, around your home, or send them as Halloween party invitations (if you're the party host this year).
Labeley is the right place for creating perfect Halloween labels. Until recently, the platform mostly focused on wine, beer and kids stickers, as well as on labels for general purposes. However, its newest holidays category addition with tons of delightful illustrations will make planning out the upcoming holiday season even more inspiring. Since the season starts with Halloween, let's see how you can create stickers that will both amuse and terrify your friends, coworkers, etc.
How to Design Eerie Stickers with Labeley
Go to the holidays section, which will appear as one of the choices after you click on Start Designing on the homepage. If you've used Labeley before, you know the drill. If you're with us for the first time, read this detailed tutorial on how to use the tool. In short, first you need to choose the shape of your scary sticker, and then add all other design elements that will make your label perfect for the occasion. For example, we chose the following shape and appropriate border, while ignoring all background patterns. We only chose a nice blue shade for the background color.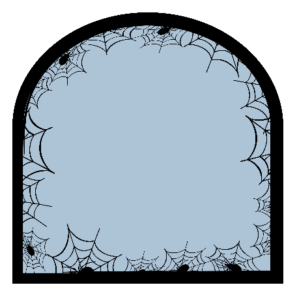 The reason we're not using any of the interesting background motifs provided by Labeley is because we don't want to cram too many graphic elements in there, especially since the holiday graphics are so capturing.
You can take a look at them by clicking on the Graphic option. Here we'll show you a few, but make sure to explore the whole category: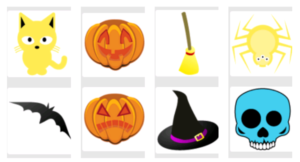 In case you don't find anything eerie enough for your group of horror-loving friends, you can always use the Upload Image option and upload any image you want from your computer. Simply click on Upload, then on the Upload Image button, choose your file and then apply different filters, crop your image or use other photo editing options to make it fit perfectly on your label.
After the graphic part of the project is finished, go to Text and write out a proper blood-freezing message in the "Enter text here" field. Play with font options to make the message look and sound ominous.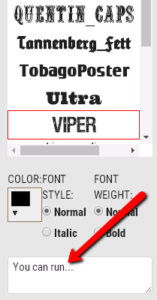 When the label is ready, you can either save it in digital format and send it electronically to people, or you can print it out on a self-adhesive material and apply it wherever you want. You have many options with labels when it comes to party decoration, so try to be as creative as possible. And the most important thing is to have fun in the process, but that goes without saying with labels such as these: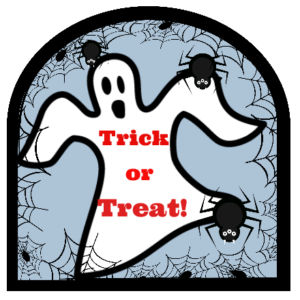 Happy spooking!